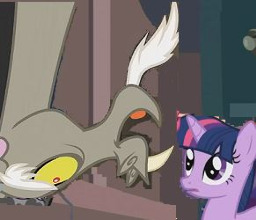 Discord wants Twilight to hit him. Twilight thinks there has to be a catch. Set in the same continuity as my TNG crossover fics, between "The Princess and the Dragon" (and also "Discord's First, Last and Only Friendship Report") and "The King Who Would Be Man", but Discord being Q isn't relevant to this specific story.
A page for this series now exists: Next of Kin to Chaos
A zipped copy of a WMA Audio file of me reading this story is now up on my web site, but be warned, the zip file is 28 megs. (The WMA is a good bit bigger than that.) I have an MP3 version as well, but it was both larger and less compressible, so I went with the WMA version instead.
Chapters (1)