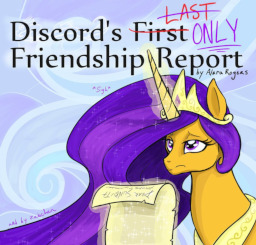 Source
Belongs to my "Next of Kin to Chaos" series, in which Discord is Q from Star Trek, but absolutely no Star Trek knowledge is required for this story.
Somepony seems to have thought it would help Discord with staying on the straight and narrow if he were required to send Celestia reports on friendship, like Twilight Sparkle does. Somepony was plainly out of their mind.
New cover art added! From the magnificent zabchan.
A page for this series now exists: Next of Kin to Chaos
A WMA Audio file of me reading this story is now up on my own site.
Chapters (1)