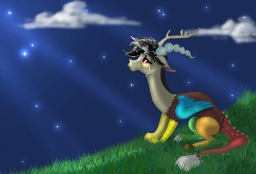 Source
When the draconequus race left the world, one child was left behind.
This is his story, and the story of the filly who loved him, lost him, and was forced to imprison him in stone to save her people.
Cover art comes from She never came back by Nirac. I have slightly modified this version from the original in that my version of Discord had dark hair as a child, and in Nirac's original the hair is white.
There is now a series page: The Last Draconequus
Progress Bar at my writing journal. Also there is a TV Tropes page and a French translation.
Chapters (6)