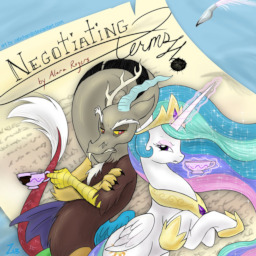 Source
This story is a sequel to Discord's First, Last and Only Friendship Report
---
Set in my "Next of Kin to Chaos" series, but no Star Trek knowledge is needed for this story. More or less direct sequel to "Discord's First, Last and Only Friendship Report", but not humor. Celestia summons Discord to explain himself regarding his ridiculous "friendship report", but the conversation quickly diverges. Discord wants to know what Celestia wanted to reform him for, and what he's expected to do. And Celestia wants to know why he decided to reform.
A page for this series now exists: Next of Kin to Chaos
Edited to add: The marvelous zabchan drew me this lovely cover art! Thank you!
Chapters (1)