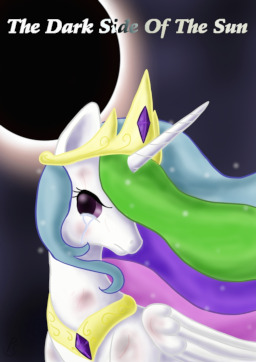 Behind Celestia's graceful smile and kind eyes, secrets are hidden with a thousand years of practice. The whispered legends of her depravity hide a dark grain of truth, hidden in the mists of time: the clash with Nightmare Moon left her with scars that will never heal.
---
This was written before Season 4: it's in a Season 3 universe.
An eighth chapter, by Icebox Froggie, is on its way, and will be added to the story at some point.
---
Wonderful Cover Art By: PonySlayer, aka JonnySalami
Pre-Readers:
Mailbox Bomber (From Bronyville Forums)
Proofreaders:
Ininsaki (From Bronyville Forums)
Editors:
Craine
Sorren
The 11th Wonder
---
Chapters (7)