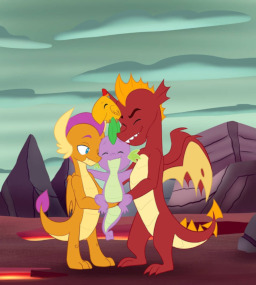 When their mother brings home an abandoned purple hatchling, and introduces him as Spike, the newest member of their family, both Garble and Smolder are more than thrilled. Garble even vows to be the best big brother he can be for Spike, no matter what he does or fails to do.
Does he really need to act like a pony?
---
An alternate universe where Spike is raised by Garble's family.
Featured on 2/26/2020! Thank you everyone!
Edited by VoxAdam
Cover art drawn by Doodle-Mark
Old cover art Cover Art drawn by boskocomicartist for SpikeSmolder fan, used with the commissioner's permission.
Chapters (24)