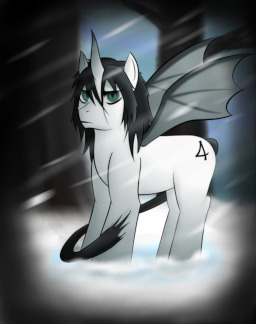 Out of unnamed circumstance, a strange pony has arrived into Equestria with no memory of his former self. When discovered by the Elements of Harmony, will they aid him in re-obtaining his memory or will they teach him more about friendship for him to start a new life? One last question remains is why his cutie mark is an ominous looking '4'. Stay tuned to see what happens.
IMPORTANT NOTICE: The 'Intermedio' chapters inside of this story are nothing but non-canon filler, one of which is its own story.
My Little Pony: Friendship is Magic is copyright of Hasbro
Bleach is copyright of Tite Kubo/TV Tokyo
Fanart/ Cover art is special thanks to Iokusanagi a.k.a Io of FIMfiction! Thank you very much!!
Chapters (48)