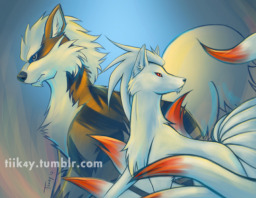 "What happened?"
"What is going on?"
"Why are we Pokémon?"
"Why are we in Equestria?"
So long story short, a brony and pegasister are sent to Equestria as Pokémon and they don't know how it happened or why. Now they must travel through Equestria to either find their way home, or live out the rest of their lives in a new world in new bodies. And only one of these questions will be answered.
"Where is Fluttershy with the cuddles?"
"..."
"Don't look at me like that, I know you want one too."
Probably going to be that one.
*****
Edited by: BronieMan305
Thardoc
halo003qd
Pre-read by: psychicscubadiver
Tank you Koru Konsui for helping me think of a name for this freakin' story.
Chapters (5)