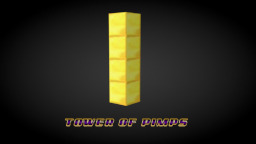 The Tower of Pimps, a wonderful beacon of dreams and swag made out of four cubes of solid gold on top of one another, all erected on a square block of obsidian. A construct that only the gods themselves could have envisioned crafting.
Unfortunately, they didn't craft it, a annoying yet very lovable git named Gavin Free made it. And sadly there is no real Tower of Pimps, so the boys at Achievement Hunter have to make do with a plastic miniature one, yet still just as swag as the actual one.
But now the mini one has disappeared! Where could it be? What could have happened to it? How could this have happened? And who is to blame for this atrocity?
Well, as to who did this our best guess is Gavin.
But as to where, why the answer is obvious: Equestria.
Teen for mild amounts of language.
Chapters (1)