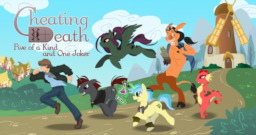 Source
This story is a sequel to Cheating Death
---
Equestria is a land filled with many amazing myths, legends, ponies, creatures, and monsters. But what happens when something new is thrown into the mix?
After the events of 'Cheating Death', Felix awakes to find he had survived his excursion into Equestria. Now a much different man then when he first set out, Felix decides to go and explore the Equestrian countryside. Change isn't the only thing that followed Felix though, as Death, or Harvey Stir in this universe, has been made his guardian until the ramifications of his actions can be fully calculated by the celestial bureaucracy. Harvey Stir keeps a close eye on him, hoping that Felix won't cause any major problems.
Such as, being involved in a bank robbery, starting random musical numbers, getting captured by a murderous cult, setting fire to a nest of changelings, or inadvertently releasing a dark god of destruction from ages long past...
...Not that any of that would happen... right?
---
Special thanks to: Hortense, Wazaga, Fantoche the 13th, Sallythemanatee, munomana, and Alamais.
Chapters (2)