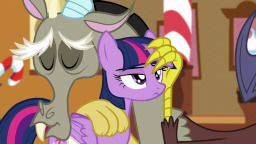 This story is a sequel to Discord vs. the Greeting-Card Industry
---
This is an unauthorized sequel to Fire Gazer the Alchemist's Reticence. If you haven't read that story yet, do! It's absolutely fantastic. I've gone ahead and made this story without approval due to the author's retirement from the site making it difficult to predict if they'll ever be around to give approval. While reading it is probably not 100% necessary to understand this story, it'd make it a lot better at the very least. Plus, reading this will spoil that story. Don't say you weren't warned!
This is also a sequel to Discord vs. The Greeting-Card Industry. It just won't make sense if you didn't read that story.
Discord thought his bet with Greeting-Card was settled. He was satisfied with his work thus-far, but that work wrought unforeseen consequences:
Actual, sincere gratitude and respect on the part of ponies around him.
Well, that's new.
Motivated by this, Twilight's pestering, and the fact that the bet is apparently not yet settled, Discord sets off to meddle in the romantic lives of even more ponies. Yeah, that'll probably be fine.
Chapters (12)