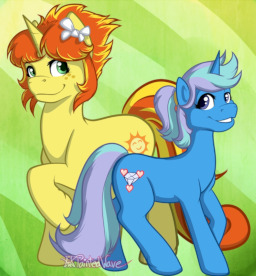 Source
Azurite isn't your normal sort of royal guard. Patrolling, protecting, and policing are fine for some ponies but they weren't for her after a routine call went sideways. Now, while struggling with the injury of her partner, she does her best to help others as a pony relations warrant officer in the palace. The palace, however, isn't quite the bastion of pony professionalism that she imagined and she soon finds her heart pulled in two different directions... toward a stallion and a mare.
Three of Hearts is an unconventional comedy-romance story that isn't afraid to take some of the most common tropes and turn them on their heads.
Quill & Blade Universe
Cover art designed and created for Three of Hearts by the super talented and ever sweet Painted Wave.
Chapters (11)