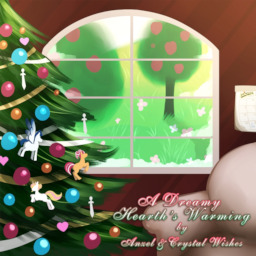 Roses are red (usually), violets are blue (sort of)
Hearth's Warming has come early — From Dream Pop, with love!
Crystal and Silent had several plans for spending Hearts and Hooves Day together:
1. Give, receive, and eat lots of chocolate
2. Find ways to keep the foals entertained and quiet
3. Enjoy a romantic home cooked meal on colorful placemats
4. Laugh at how the dining table was covered in crayons, toys, and applesauce
5. Find Dream Pop in the living room with an invitation to join her for Hearth's Warming
...
Wait, no, that last one was definitely not on the original list—and yet that was the only one that did happen.
---
Written by myself and Crystal. This story is set within the Quill & Blade Universe and takes place after the events of Trials of a Royal Guard.
Chapters (4)