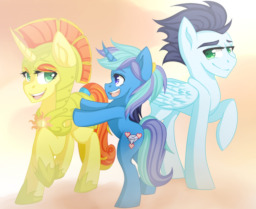 Source
This story is a sequel to Three of Hearts
---
Joining the Royal Guard seemed like the adventure of a lifetime to Azurite. She just never imagined that her career would heave her life down the path it did. After struggling with her job, the injury of her partner, and her relationship, she's found herself in entirely new territory: love. She'll soon discover that love is only one of the elements necessary to keep ponies together.
Three of Diamonds is a comedy-romance story that pokes fun at some of the common tropes found in the genre. It is a direct sequel to Three of Hearts. Readers will need to be familiar with that story.
ToD is also an interwoven side story of Secrets of a Royal Guard.
Quill & Blade Universe
Adorable cover art by Potates-Chan.
Chapters (11)