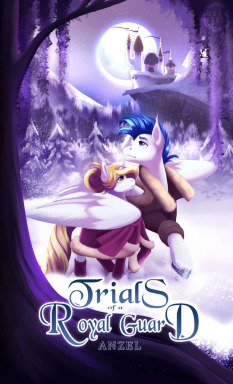 Source
This story is a sequel to Secrets of a Royal Guard
---
Duty, honor, and loyalty above all else. That was what Silent Knight had been told ever since he was a colt. They had guided him all his life and he was more than ready to follow in his father's hoofsteps by dedicating himself to the Royal Guard. Then he discovered something else he had never expected: friendship and love. He learned that he owed these values not just to his job, but to his wife, his friends, and his family. Unfortunately, he learned that too late.
War has broken out between the gryphon kingdoms and Equestria is stuck in the thick of it trying to protect their ally, Nordanver. As Silent marches off to war, he must contend with the guilt that battles within him. He played right into the claws of Sudramoar's sovereign, and now he must leave his newlywed wife behind so that he can pay the price for his foolish actions.
Knowledge of the Quill & Blade AU is recommended to understand this story. It is a direct sequel to Secrets of a Royal Guard.
Chapters (65)