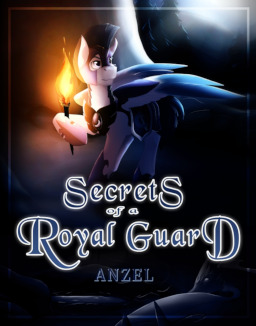 This story is a sequel to Memoirs of a Royal Guard
---
From the outside looking in, life has never been better for Silent Knight. He is the first pony in a long line of Royal Guard ancestry to earn a commission, he has a loving mare by his side, and he bears the kingdom's highest honor for bravely risking it all to protect Princess Luna. The future shines bright with potential, but the shadows of the past lurk at every twist and turn that lies ahead.
Guilt, anger, and regret are constantly at war in the depths of Silent Knight's mind. Despite his best efforts to enjoy the life he has, he finds himself trapped in the past, reliving the moment when his unit was ambushed and his ponies were killed. He refuses to show any weakness, instead hiding everything behind a tough face to protect himself and those he loves. But his true feelings—and what he plans to do with them—shackle everything he holds dear with chains forged in secret.
Secrets of a Royal Guard is a comedy series with romantic, dramatic, and adventure elements. It features an original character cast and their interactions with the princesses they protect. It is recommended that readers be familiar with Memoirs of a Royal Guard.
Quill & Blade Universe
Chapters (56)