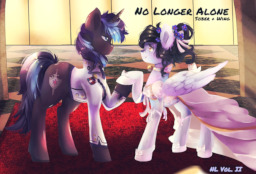 This story is a sequel to No Longer Displaced
---
Sass, science, and surviving shipping! Postage paid! The gruff captain put a certain pegasus professor to the test and learned that she just couldn't quit. Now come the hard parts: an actual relationship and maybe a villain or two.
There's also still a lot to prove. A crafty princess may have guided Tail and Magic Barrier together for basic training, but the stallion has more lessons in mind for the inquisitive academic. Meanwhile, other currents hold sway over the tides. Old friends will play new parts, and new characters are set to step onto the stage. The chess pieces are settling into place, and the queen has her eyes on one state secret. 
Perhaps when they find resolve in the shadows, the physicist thriving in the world of guard service and the captain rediscovering happiness in the modern age will see that they're no longer alone.
---
Folks, I know this has been a long time coming. Some of you have been poking me for almost four years, wondering when Sober and I (Wing) would get around to writing NLD's sequel. I hope it doesn't disappoint. 
Cover art by the amazing dream--chan, and special thanks to some old friends and a new editor who joined the fray. Max Redbridge, welcome to the circle of crazy! Neon/Fate, thank you for your squees, deaths, and fuck yeahs! And Amby!!! Alticron, for giving us Bonecrusher. Tea, you can't have Trigger without you! Thanks to Danger Noodle for the adorable Moon Glow. Word Worthy is sneaking around in the doc, too. We also got some Latin help from everyone's favorite Brasta, and what is an NL story without floof from Dr. Batsy?
Wing's magical comments about the continuities and timelines can still be found here. The gist remains that NLD and NLA remain in a separate continuity from APD & Co. If you find any typos, please PM them to Wing. It keeps the comment section cleaner. Don't forget to like, share, comment, and subscribe lol. And finally, reading No Longer Displaced is strongly recommended if you want to have any idea what the hell is actually happening.

Chapters (48)