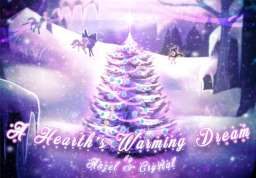 Every year, Crystal Wishes and Silent Knight have a dream: their foals, friends, and family all gathered under one roof to celebrate Hearth's Warming together.
Despite their best efforts, something always gets in the way. One year it was an outbreak of pegasus pox, but usually it's just the fact that everypony has plans already in place, commitments to their own families, and other such unfortunate obligations.
This year, however, their dream is coming true. It just might not necessarily be how they imagined.
---
Welcome to the 2018 Quill & Blade Hearth's Warming story! This takes place well after the events of the main stories and includes some spoilers. Co-Written with Crystal Wishes.
Chapters (5)