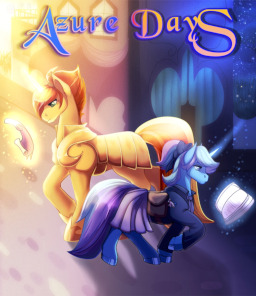 Source
This story is a sequel to Sunny's Days
---
Sunny Day is pretty happy with her life. She finally has the command she worked so hard for, and the view from atop her wall is amazing. It's everything she wanted, but many ponies still view her as immature and wild. What more does she have to do to prove her worth and show them all she's as serious as anypony else?
Elsewhere in Canterlot, Azurite used to be happy with her life. The tragedy that occurred during the recent Summer Sun Celebration changed everything, and now she's struggling to get her hooves moving in the right direction again. All she wants to do is help other ponies like they've helped her, but her own fears keep getting in the way.
The paths before these two mares rarely touch, and yet wind closer together than either will ever know. Achieving their goals will ultimately rely on learning the same lesson: sometimes you just have to believe in yourself.
---
This story takes place between Sunny's Days and Three of Hearts. Knowledge of either is not required to enjoy the story but will add clarity.
Quill & Blade Universe
Chapters (30)