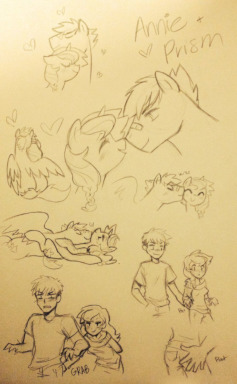 Source
Based on the original characters of Kilala97's Next Generation pictures, comes a series of one-shots and fluffy drabbles featuring the pairing of Anthea and Prism Bolt.
Inspired by the cover art and fact that this is the artists personal OTP and her challenge to have people write fiction for this pairing I present that fic. This will be a series of one-shots and drabbles that deal with the pair. Ranging from funny, sad, romantic, sensual (but not sexual) and everything in between I hope you all enjoy this fun little couple.
Characters belong to Kiala97 who can be found on deviantart here. Friendship is Magic is owned by Lauren Faust, DHX media, Hasbro and the Hub. I do not own these characters and make no profit from making these stories.
Thank you and enjoy.
Chapters (1)