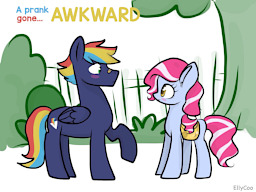 Source
Cotton Candy always thought that Prank Partners pranked together. A team, ya know? But when Prism tells her Prank Partners always prank each other harmlessly, the mare has a bright idea of a prank. And with her mad acting skills, he'd totally fall for it.
She spends the entire afternoon preparing it, knowing it was going to be hilarious. Well, hilarious at 80%... 60%... 4- NO. It was going to be hilarious at 100%. She was (pratically?) sure of it. It was a totally harmless joke. What would go wrong?
Nothing, it just went weird.
---
The characters belong to kilala97. She's my favorite artist and OC maker. She's also an awesome writer!
PLEASE ask me through PM before submitting to any groups.
---
This story has a sequel,Love's Complicated
Chapters (2)