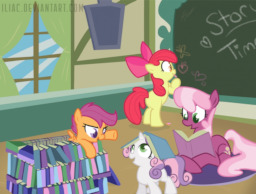 Source
As the most excitable filly in Ponyville, Scootaloo has a habit of overusing exclamation points in her writing. So naturally, when Cheerilee gives her a bad grade on a short story she loves for that exact reason, she and her fellow Crusaders set out on their latest quest. One that would turn that weakness into the greatest strength of all.
This is the story of a tale too exciting for any old periods or question marks!
Takes place before S5. Coverart by Egophiliac .
Written entirely because PaulAsaran says I have an "apparent allergic reaction to anything that isn't a period or question mark." Obviously, I chose to take that as a challenge to cram as many exclamation points as I could in a story. Hence, this story is dedicated to PaulAsaran and anyone whose teacher has ever denied them the ecstasy of an exclamation point.
Chapters (1)