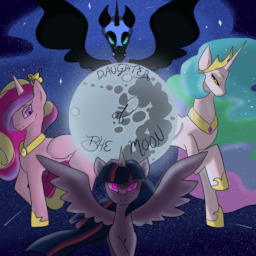 Twilight Sparkle was born on the moon, 999 years before the 1000th summer sun celebration. Her mother, Princess Luna, trains her and teaches her to be the perfect ruler. Her plan is to stop this Nightmare and be happy.
Of course, Twilight gets released early, and has to face this whole new world without her mother. At least it will be a while before Celestia finds her and finds out her motives, or will it?
Twilight will have to deal with things she definitely wasn't trained for, including a possible love interest?
---
New cover art made by Nablyudatel, my editor!
Link to their Kofi where they take commissions!
https://ko-fi.com/nablyudatel14658
Chapters (10)