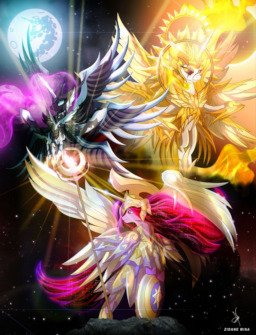 Source
Twilight Amitica Aurora Sparkle:
"Goddess of Harmonic Forces." "Crownprincess of Equestria." "The Protector of Pony Kind." "Goddess of Magic." "One of the divine three." "Heavensent of the Stars..." That all were just a few of the many titels the youngest princess of Equestria was known too.
It sure might be nice and had it´s benefits to be a kind of litteral goddess. Yet she herself couldnˋt care less for her near omnipotence and limitless wisdom.
What were all her titels; powers of the god of gods; all the knowledge one could wish for and an immortal live and body when one had like no actual friends?
After breefly seeing five young mares at their honoring ceremony. Just barely some hours after they averted a recent threat, she decides to taste her luck and aproach them in friendship - after all friendship is a kind of harmony, isn´t it?
---
An alicorn seen as a omnipotent goddess by her subjects, approaching five seemingly ordinary mares...what could possibly go wrong about that....
---
Cover Art made and used with Permission by zidanemina . Definitely check it out. Thatˋs some serious quality over there!

Chapters (3)