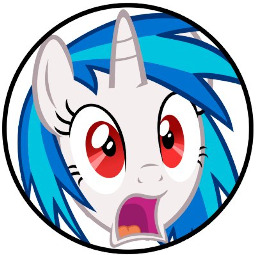 Source
Vinyl Scratch wakes up to find herself the personal student of Princess Celestia, sent to the obscure village of Ponyville to oversee preparations for the millennial Summer Sun Celebration.
Vinyl can only imagine two possible explanations for what has happened: she has tumbled into an alternate universe where she's Twilight Sparkle, or, after everypony telling her she'd do it eventually, she's finally gone and lost her mind.
---
Alternate Universe tag is obvious. Missing though, is the Drama tag (oh wait, they have that now--fixed!), and the "She's Finally Gone and Lost Her Mind" tag, which may be substituted by a CrazyPinkie emoticon.
---
Cover illustration based on a work by ThatsGrotesque. I'd love to see an artist include the versions of the Mane Six from this fanfic, though.
Chapters (14)