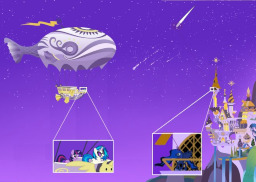 Source
This story is a sequel to Javelin
---
Having formed a semi-secret business partnership with Twilight Sparkle to manufacture CDs and CD players, Vinyl Scratch finds herself in Canterlot fighting a wicked slander that threatens to bring Equestria Acoustics to its little pony knees--a slander apparently uttered by Princess Celestia herself!
Additional Tags: Old-Time Radio Drama, MLP: Explosions Are Awesome
Sequel to "Javelin".
About the AU Tag: This was mostly written back before Season 2 started.
About the Crossover Tag: Some Doctor Who, in addition to the utter insanity of Chapter 9.
Chapters (18)