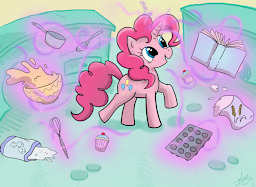 The annual Ponyville Flea Market is going on, and Pinkie found a very interesting object; an attachable unicorn horn.
Assuming it's just a joke item, Pinkie buys it, hoping to use it as a method of making the Cakes' Twins laugh. But when she discovers that the horn is fully functional...
Can you honestly ever say you would trust Pinkie with Magic?
Chapters (4)