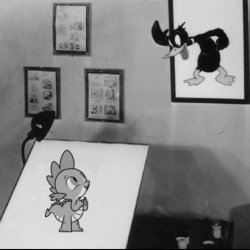 Source
It's 2011 and Spike the toon actor is getting a little sick and tired of how he's the butt of all the jokes, both on and off the set of Friendship Is Magic.
Daffy Duck comes along and convinces Spike to get very sick and tired. So sick and tired in fact that he quits. He's off to Hollywood now, to become a big dragon toon movie star!
And meanwhile Daffy quietly plots to break back into show business. Far away from Warner Bros. Far away from that upstaging rabbit. And only Angel Bunny stands in his way...
---
Originally written for the Who Crossed Over My Little Pony? contest, but it's too long and it has humans in it so...no dice.
This is a crossover, mostly with Looney Tunes, but also with Animaniacs. Additional character tags: Daffy Duck, Slappy the Squirrel, and the Dodo (from the 1938 WB cartoon "Porky in Wackyland"). Additional genre tag: Metafiction.
Chapters (6)