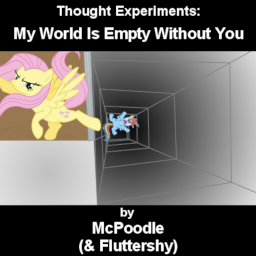 Source
This story is a sequel to The Mistress of Dreams
---
Vinyl Scratch has been caught by the Dream Trap spell and stuck in the shared dreams of Twilight Sparkle and her friends, a spell cast by the Dragon Emperor, who is manipulating those dreams in order to destroy them.
Because what happens to you in a Dream Trap spell happens to you in real life.
When she was first starting to travel through her friends' dreams, Vinyl thought that Pinkie Pie's would be the easiest to get through.
When the Dragon Emperor planned on how to shape each Bearer's dream, he thought that Fluttershy's would be the easiest to get what he wanted.
Both of them were wrong.
---
This is the final part of the series that began with "Javelin" and really got going with "The Perfect Little Village of Ponyville". Created using a revolutionary new technique that allowed me to write this story in my dreams!
---
Co-written by Fluttershy (aka Hope) when McPoodle wasn't looking. Shh…don't tell him!
Chapters (18)