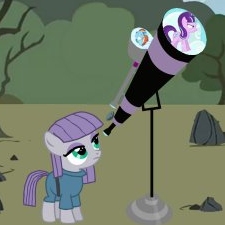 Source
Starlight Glimmer has just discovered Maud Pie's first work of prose: a self-insert fix-fic, where the thing being "fixed" by the story is Starlight's own confrontation through time with Twilight Sparkle, and her subsequent reformation.
Inspired by "We Can Do This Forever" by Empirical Deduction, "Twilight Fights Starlight for Eternity" by Diamond Aura, and other stories speculating what might happen if Starlight and Twilight's fight had gone on forever.
Note: The majority of this story is fictional within the world of My Little Pony: Friendship Is Magic. The "Alternate Universe" tag therefore only applies if you imagine Maud's story as being real.
Featured on March 18, 2018.
Chapters (12)