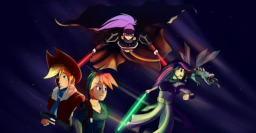 Source
Star Wars (Legends) / MLP fusion.
The Dark Times are over. The Rebellion has become the New Republic, and the Galactic Civil War seems to have foregone conclusion; the New Republic will win. Yet not all evil has been destroyed, and even on the verge of triumph it can still strike back.
Twilight has lived a quiet, happy life. The little world of Equus has been sealed off from the galaxy, leaving its few inhabitants untouched by the Emperor and the Warlords who appeared in his wake. The young zabrak watches the stars, wondering what she might find, and it comes in a form far darker than any she has imagined before; a nightmare hunting her.
Guilt and shame are daily plagues on the smuggler who goes by 'AJ', though her brash, rainbow haired pilot is almost as much of a problem. Aboard the Rainboom, Dash and AJ carry goods legal and illicit from one end of the galaxay to the other, chasing their own secrets and pasts along the way. Neither expected to be burdened by a runaway Jedi with no idea about how the galaxy works. Business is hard enough without bounty hunters on their tail, each more psychotic than the last. Unfortunately for them, that's what they got.
Chapters (3)