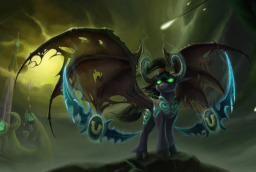 Source
Dark days have begun to cloud the great kingdom of Equestria. Towering bipedal creatures with leonine faces and skin like stone have been seen attacking its towns, striking without warning before vanishing. Trusting in her student and her friends, Princess Celestia has called upon the Bearers of Harmony to seek out these intruders and discover their intentions.
Twilight seems to be having her own problems at the moment, however. Shadowy nightmares plague her every night. Dreams of dark betrayals, fel deals with fiery harbingers, and whispers of promises of true power. In her dreams lies a world of war and violence, a place of alliances and hordes battling for supremacy. Worse still...in the back of her mind, a voice haunts her with whispers of a warning, a threat.
---
Cover art belongs to 0Riane0
Featured 24th May, cool. Glad people are liking it.
Pre-read and edited by Nealend86, Web of Hope, xbox432 and Aurucite, with many, many thanks for the fine job they're doing!
Chapters (4)