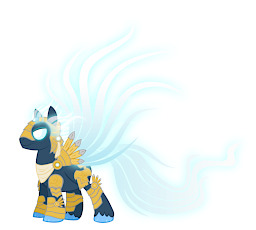 Source
Diablo Crossover.
The Archangel of Justice destroyed the Worldstone to spare Humanity the corruption Baal infected it with. The force of its death knell shatters Mount Arreat and sends Tyrael hurtling across the endless planes of reality. He falls upon a world untouched by Angel or Demon, far from the sight of the High Heavens. So far, in fact, that he fears he will not be reborn from the Crystal Arch.
Wounded and near death, hope appears in the form of two strange creatures bearing the power of night and day.
Tyrael now faces a time of recovery as his power slowly heals within a body fashioned for him by his saviours. Justice Incarnate tastes for the first time the life of a mortal, and it is a strange, confusing experience .He has been left in the care of one Twilight Sparkle to learn of this world.
After all, where better to find peace and harmony than Ponyville?
Act I - The Root of Evil
Act II - ????????
Act III - ???????
Act IV - ???????
[Cover image used with full permission of the owner. Go on, go have a look at Chagial's stuff.]
Chapters (41)