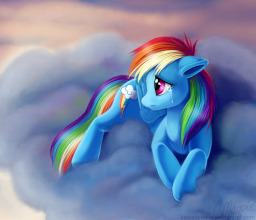 Sequel: The Past of a Shy Mare
Rainbow Dash has never been seen around her parents. Nopony knows what they even look like. She's been raising herself since she was a little filly after what happened. She's alone in Ponyville. Her friends have moved on to much bigger things. They write to her and keep in touch, but they never visit. Their schedules are full of other things that need to be done. She tells her parents story now because of the dark secret she has kept since her friends leaving.
This is my first Slice of Life and Sad fic, so I don't know how it will turn out. The idea came from a picture I saw with RD and Fluttershy. I hope you like it!
Also, check the date of this story. I started writing it before we saw her dad in episode 12 of season 3.
Chapters (40)