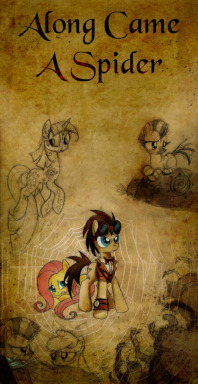 The Doctor goes beyond Equestria in this third installment of the Doctor Whooves Series.
When a chance encounter with the Doctor in the middle of Ponyville causes Zecora to run away in blind terror, he is understandably perplexed, as the two had never met before. Shortly after, the cryptic zebra turns up suffering from a mysterious ailment that is somehow related to her homeland of Zebrica, and the Doctor, Twilight, and (much to their surprise) Fluttershy must travel to the distant savannah in the TARDIS to discover the cause of her distress. But what begins as a search for a cure will lead to a darker place than one might believe possible, as a mystery spanning the whole of time and space deepens and hungry gods from far-off memories demand the Time Lord's blood.
"Along Came a Spider" is the third Doctor Whooves Episode and the fourth of the expanded "Number 12" continuity begun by the inspirational Squeak-anon.
It is strongly recommended to read the following fics here on FIMFiction before proceeding with "Along Came a Spider."
1 - Number 12 by Squeak-anon
2 - Traveler by Squeak-anon
3 - The Pinkie Conundrum
4 - Game of Stones
Comments and critiques are very much desired and let this crazed writer know that the herd does indeed care.
Elements of Number 12 & Traveler: Squeak-anon
Doctor Whooves Intro posted on YouTube by: Cshep99
Cover art provided by FoxInShadow from deviantart.com
Proofreader, Editor and Number One Assistant: 2dextreem
*Rated T for scary moments and some Doctor Who level violence.*
Chapters (11)