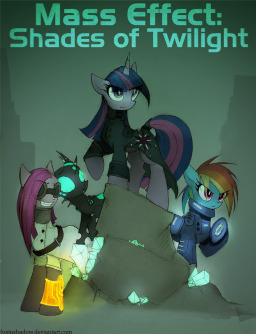 Source
In 2185, during his campaign against the Collectors, Commander Shepard discovered a previously unknown species whose origins predated any other race in the modern galaxy. Following a daring rescue from their ancient sanctuary, the Equestrian Herd was brought back into the galaxy where, for the first time in eons, they must walk their own path.
Knowing full well the terrible threat that lingers on the edge of the galaxy, the leader of this newly freed race fights to secure her people's future while attempting to prepare for the storm on the horizon.
This is her story.
------------------------------------
The long awaited Sequel to Mass Effect 2: The Equestrian Equation This is a reader directed story. Your choices will shape events.
If you favorite, also like! It's one little button click that makes all the difference.
Also, this series has its own TVTropes page now! (Special thanks to user CrowMagnon for setting it up).
Chapters (11)