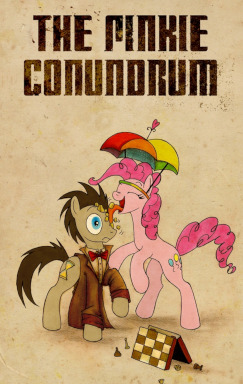 Following the events of "Traveler," Twilight goes to Canterlot to deliver her report on what has transpired since the Doctor's arrival in Ponyville directly to Princess Celestia. She leaves the Doctor in Spike's capable claws, asking him to show Equestria's newest arrival around town while the TARDIS rests and repairs itself from the trials of the previous day.
Although at first distraught at being stranded in the seemingly serene township of Ponyville, the Doctor finds himself reexamining his initial assumptions about the ponies, the land of Equestria, and his compulsive need to travel when he is confronted with the miraculous, impossible events surrounding Ponyville's resident party mare: Pinkie Pie.
The Pinkie Conundrum is the first in a series of continuity branching off from the foundations established by the Doctor Whooves stories: Number 12 and Traveler by the very talented Squeak-anon and all references to these two works of fanfiction is credited to him. Also, while this is a separate continuity from any future works by Squeak-anon, it is strongly recommended to read these two fictions before reading Pinkie Conundrum.
This work has been developed and published with permission and blessing of Squeak-anon, my original inspiration.
Doctor Whooves Intro posted on YouTube by: Cshep99
Cover art provided by FoxInShadow from deviantart.com
Proofreader, Editor and Number One Assistant: 2dextreem
If you enjoy this story as well as my other works, please leave a comment. Constructive critique is encouraged as well as any questions or remarks that may occur.
Chapters (7)