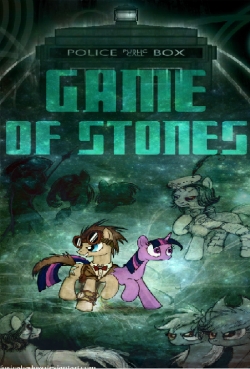 The Doctor's adventures in Equestria continue in this second installment of the Doctor Whooves Series.
His nature as a Time Lord revealed to Twilight's friends, the Doctor prepares for his first jaunt into Equis' history with Rainbow Dash when Applejack informs him of something mysterious she saw as a filly. Intrigued, the Doctor and Twilight, accompanied by Applejack and Rainbow Dash, travel 3000 years into the past to visit Ancient Roan during the Reneighssance Period.
Upon arriving, the ponies are beside themselves with wonder as they explore a place they once thought existed only in history books. They even get to meet a living legend in the form of Leonard DiHoovsie: the famous inventor, thinker, painter, and philosopher. But not everything is at it seems, and something disturbing is happening just under the surface of Roan's exquisite architecture. With strange rumors abound, and a string of unexplained and unsolved disappearances plaguing the historic city, the Doctor's companions are about to discover that some things are left out of the history books for a reason.
"Game of Stones" is the second episode of the Doctor Whooves Series and the fourth of the expanded "Number 12" continuity begun by the inspirational Squeak-anon.
It is strongly recommended to read the following fics here on FIMFiction before proceeding with "Game of Stones."
1 - Number 12 by Squeak-anon
2 - Traveler by Squeak-anon
3 - The Pinkie Conundrum
Comments and critiques are very much desired and let this crazed writer know that the herd does indeed care.
Elements of Number 12 & Traveler: Squeak-anon
Doctor Whooves Intro posted on YouTube by: Cshep99
Cover art provided by FoxInShadow from deviantart.com
Proofreader, Editor and Number One Assistant: 2dextreem
Chapters (12)