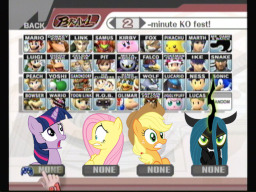 Source
It's been a rough day for Twilight Sparkle. She was awoken in the middle of the night to save the town, had a chance to study an alien artifact ripped out from under her, and is now stuck with Applejack, Fluttershy, and her arch-nemesis Queen Chrysalis in some alien fighting tournament with a bunch of... things she doesn't even want to try and start describing without a cup of coffee and some asprin!
Indeed, Twilight and her friends have been summoned to join the latest Smash Brothers tournament! And as they explore the mysterious 'Smashworld' and meet new, colorful characters, they will be pitted head to head against new friends and enemies as well as each other! Can their friendships survive being forced to fight one another? Why are all the other 'smashers' so on edge? And what's with the bizarre being that purports to be the creator of this world, "the Master Hand?"
Only one thing is for sure. It's going to be a doozy.
Chapters (8)