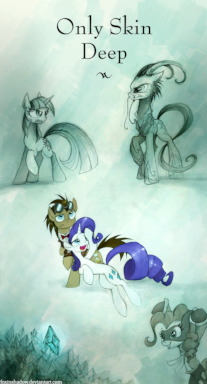 Source
The Doctor takes to the stars in this fourth installation of the Doctor Whooves Series.
When the TARDIS is unexpectedly pulled off course during her first foray into the wider universe, the Doctor, Rarity, Pinkie Pie, and a somewhat-reluctant Twilight find themselves brought to the doorstep of a utopian alien city. While Rarity and Pinkie immerse themselves in two opposite ends of the local culture, questions that have gone unasked for centuries draw Twilight into the shadowy labyrinth of intrigue and deception that sustains a delicate balance of power in this "perfect" society. A balance that some will go to any lengths to preserve.
And as the mystery surrounding the cryptic messages left in the Doctor's path continues to unfold, will the growing schism of distrust between Time Lord and Friendship Scholar over unspoken secrets cost both ponies more than either of them are prepared to lose?
====================================================
"Only Skin Deep" is my fourth Doctor Whooves Episode and the sixth in the expanded "Number 12" continuity begun by the inspirational Squeak-Anon.
It is strongly recommended to read the following fics here on FIMFiction.net before proceeding with "Only Skin Deep."
1- Number 12by Squeak-Anon
2- Traveler by Squeak-Anon.
3- The Pinkie Conundrum
4- Game of Stones
5- Along Came a Spider
Comments and critiques are very much desired and let this crazed writer-pony know that the herd does indeed care.
Elements of Number 12 & Traveler (c) Squeak-Anon
Doctor Whooves Intro posted on Youtube by: Cshep99
Cover & Concept Art provided by FoxInShadow from Deviantart.com
Number One Assistant & Proof-Reader - 2dextreem
*Rated T for some Doctor Who level violence.*
Chapters (6)