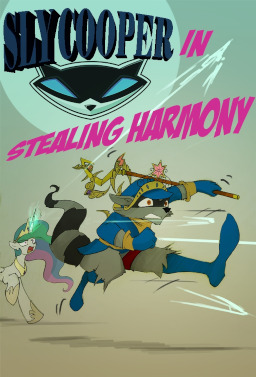 Former "master thief" Sly Cooper had given up his old, criminal ways for good and settled into a new life with his love, Carmelita. But when an alien god of chaos spirits away and imprisons his lover and his friends, the last member of the Cooper Clan must take up his cane once again to get them back.
The deal is simple.
Come "willingly" to a peaceful, tranquil world populated by magical, colorful, talking ponies, and "acquire" six pieces of ceremonial jewelry in exchange for the release of his friends and the promise of a safe return to Earth. Piece of cake, right?
Right?
Sly Cooper and all related properties and art belongs to Sucker-punch Studios and Sony
MLP belongs to Hasbro & Lauren Faust
Cover art by the fantastic Foxinshadow
Proofreader, Editor and sometimes Co-writer: 2dextreem
*WARNING: Contains spoilers for all three Sly Cooper games in the first chapter. Takes place before the events of "Sly Cooper: Thieves in Time." In the MLP universe, this takes place between seasons 2 and 3, a couple of months after the finale of season 2.*
If you favorite, also like. Likes and comments pay the bills and make the chapters come more quickly.
Chapters (3)