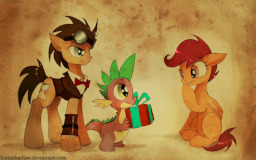 Source
Hearth's Warming has always been a time for family and friends. A time when the ponies of Equis remember the frigid days before the rise of Modern Equestria, and bask in the warmth and comfort of their loved ones.
But for one particular holiday season, strange things are happening in Ponyville that can't be easily explained. Least of all by Scootaloo, who is having her own share of troubles during this normally festive time of year.
When the mirth and whimsy of Hearth's Warming starts to take on a more dour and icy edge, things take a turn for the stranger when out of the blue, the enigmatic "Doctor Clockwork" appears.
Join the Hourglass Stallion as he takes it upon himself, his temporary companion Spike, and the newly-conscripted Scootaloo to save Hearth's Warming before the holidays are ruined forever!
Chapters (6)