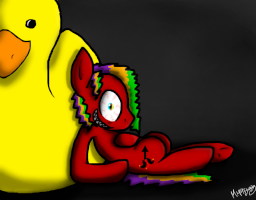 (Note: The wonderful artist that created the commission for my story is Thunder Cloud, her deviant art is here: http://karithekittykat.deviantart.com/gallery/
Also, this is a Nathan Traveler authenticated spinoff of The Travels )
Madness.
Such a simple little word. Rolls off of the tongue like a nice glass of wine. Stays ringing in your ears like the first and only ringing of the Liberty Bell.
Insanity.
So strange to think that some kind of primal and subconscious emotion could secure itself into a faction of world governing. Not that I am complaining. Or judging whatsoever.
But that's the thing. In the entire being of life, there are three powers that are in constant play. Neutrality, Good, and Evil. And their respective Travelers. But recently, there is another power gaining itself a seat in the world.
The power normally known as a nuisance. Complete lunacy.
It's not good, it's not evil, and it's sure as hell isn't neutral. All it goes for is the continuation of itself. However, it doesn't have a particular patron god, no matter how hard one would try and govern it, the highest power in its rungs happens to be its traveler.
Which happens to be me.
Chapters (4)