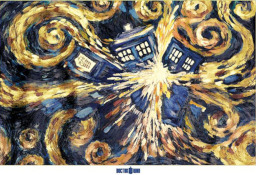 After the Pandorica falls into the exploding TARDIS, it throws The Doctor through the very last crack in time, a crack through which he can cross universes.No TARDIS, no screwdriver, a whole new pony body and a certain unhappy plasmavore that fell through with him, The Doctor begins to think that perhaps his plan was not as fool proof as it could have been.
How will The Doctor protect the highly confusing, sentient ponies from the plasmavore that seems to be harbouring an unholy grudge against all things Timelord? How will he adjust to his new body? And most importantly, why does he have a sudden craving for...pears.
Well, at least he still has his bow tie.
Chapters (10)