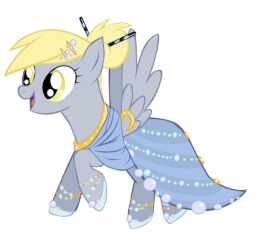 Source
This story is a sequel to The Courtship of Derpy
---
Marriage- (also called matrimony or wedlock) is a socially or ritually recognized union or legal contract between spouses that establishes rights and obligations between them, between them and their children, and between them and their in-laws.
Celestia and Depry's relationship has blossomed beautifully. One of them pops the question, and the wedding preparations are under way. Only one problem...
Where the hay is Derpy?
---
Fanfic includes a bit of some crossovers, but it hardly has revelance to the plot. Also, may include some sad themes. Screw you rules. I hope they didn't hear me.
Chapters (2)