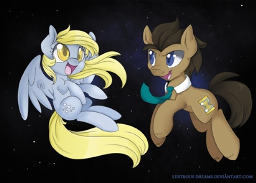 Source
Ponyville's favorite mailmare starts the day in her usual way. Wake up. Toothbrush. Then breakfast, toothbrush again, a pass through her mane with a comb to try to get it to behave. Then, goodbye to Dinky, and off to work...
First, Discord. Then The Doctor. Princess Luna. Princess Twilight Sparkle. Princess Celestia. A fight for everyone's very lives...and a grey Pegasus mare with bubbles for a Cutie Mark right in the middle...
Don't you just love it when the universe decides you're really not a background pony?
Chapters (16)