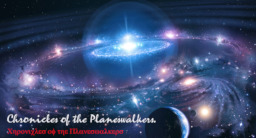 There have been many debates among men whether the multi-verse theory is true or not, but there are some who know the truth. Aquila Cuore, an Assassin from the 19th century. He discovered the hard way the truth of this theory, not even knowing it existed yet. After a traumatic event that would've eventually led to his death, he awoke from unconsciousness in a dark void. Redik Dheavan an aspiring wizard from the world of Dominaria found himself in the same predicament after having a rather one sided battle with a mysterious dark wizard. Little did they know, this would change their lives in a mind wrecking way forever.
This is very much a story going under constant evolution by its writer and accomplices. If you feel that you are not patient enough to last until at least half way through the story. Then this is not the story for you.
Aquila Cuore and Redik Dheavan (C): Eagle Heart.
Chapters (20)