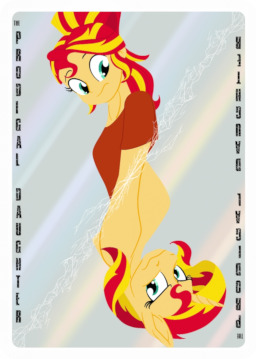 Source
Part of the Wibblyverse Continuity.
Part five of Doctor Whooves: Friendship is Wibbly Series 1
Previous Story: Fall of the Doctor
Next Story: The Clock with Three Faces
Sunset never expected to encounter her own double. In retrospect, maybe she should have. Having fled back to Equestria, with little hope of being able to return to the life she built for herself, Sunset sinks into dismay. This is only made worse by the fact that her guide to Ponyville is a bombastic showmare who is the local equivalent of Canterlot High's reigning bully.
Meanwhile, Sunset's friends try to discover what made her run, and whether she'll ever return. Deeper secrets rise to the surface as they investigate with new Sunset's help.
The divide between worlds is breaking down. A force threatens both worlds with destruction and corruption, and chaos that leaves even Discord unprepared. Only friendship can save the day, now, but will that be enough when friendship was the root of the problem to begin with?
Violence tag for magical phantoms and general chaos.
Gore tag for some real Lovecraft stuff going on near the end of chapter 8.
Also, there is something that could be termed mind control going on throughout, so watch out for that as well.
***
N.B., this story matches up with E.G. canon through Legends of the Everfree. I couldn't really make it work past that point. Also, though I couldn't fit them on the list, the main characters of this work also include Discord, Celestia, Luna, Spike, the Doctor, and Flash Sentry.
Chapters (10)