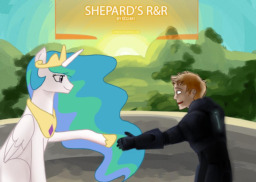 Source
Edit: Now a collaborative effort with Loyal2Luna
Commander Shepard has been through a lot, but now that the Reaper War's over he can finally relax and take a little R&R, right? Soak up the sun, grab a few drinks, spend some quality time with Tali, introduce a new race to the galaxy... wait, what?
In the aftermath of the war, a new species has been discovered amidst the destruction and fire. A species that have access to powers never seen before, powers which could prove vital to the continuation of galactic survival.
The Citadel Council has elected to send Shepard, along with the rest of the crew of the Normandy, to introduce Equestria to the universe outside of their solar system.
Now Shepard must wade through obstructive bureaucrats, antagonistic journalists, and the odd, angry prince in order to bring Equestria into a new age of space and adventure.
So settle in, it's going to be one hell of a vacation!
Now has it's own TvTropes page
Chapters (9)