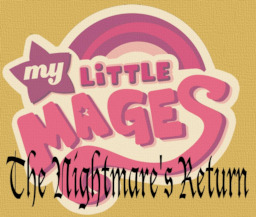 Source
Twilight Sparkle, Arcane Mage, knows that there is some truth to the story of Nightmare Moon, but her mentor, Princess Celestia, dismisses the matter in a heartbeat. She sends Twilight to the town of Magiville to oversee preparations for the Summer Sun Celebration, much to Twilight's distaste.
Unbeknownst to her, the darkness is gathering in Mystica. Assassins lurk in the shadows, Undead gather in the forest, werewolves sharpen their claws, and criminals and mercenaries prepare themselves.
To win the coming battle, Twilight will have to rely on her wits, her magic, and the five mages she's been saddled with. No matter how much they annoy her.
Rated teen for violence and language. Humanized, action-y. Based on the first two episodes, with some large changes made.
Chapters (10)