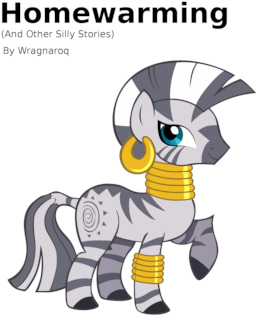 Source
Another collection of silly short stories.
1. Homewarming: In which Twilight gets a new neighbor, learns more about her than she ever knew, and Pinkie breaks the Fourth Wall more than is absolutely necessary. "I do not!" You do too, Pinkie. Get out of the summary.
2. Innocence: In which Cheerilee must give her students a lesson that she does not want to give them.
3. Accident: In which Little Strongheart runs from a foolish stallion who doesn't understand the meaning of his actions.
Part of the Butterflies Continuity.
Zecora vector from http://shelltoontv.deviantart.com/art/That-Wicked-Enchantress-Zecora-243984000.
Chapters (3)