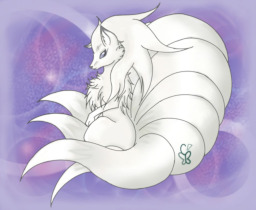 This story is a sequel to Tails of Innocence
---
It has been over 50 years since Princess Celestia took in a little three-tailed fox as her student, years filled with affection, teaching, discoveries, and love, raising her in the hope she could purify Luna from her corruption.
Now the day has come as the seal holding Nightmare Moon trapped is about to break. It is up to Kyuubi and Twilight to save Princess Luna.
Will the five-tailed kitsune step up and succeed? How will Ponyville react to a four-meters tall but fluffy predator? And most importantly, what struggles and sacrifices will be needed to achieve victory, and who will have to make them?
Special thanks for assistance to passionate proof-readers:
Sweetolebob18
RebelRogue12
Also, I need to praise Grammary. It helps a lot in polishing department.
Chapters (21)